EXCLUDED RMC SPORT – The interview was scheduled on the airwaves of RMC, to hear from him. But Almike Moussa N'Diaye, the Hyères FC player injured by Éric Bailly in the 32nd final of the Coupe de France, preferred to give up a recorded interview because he still feels "pain when speaking". The exchange therefore took place in writing. The memory of the injury is still vivid, but the midfielder, who claims not to have a grudge against Éric Bailly, is well surrounded.
RMC Sport: How are you, what pain do you still feel today?
Almike Moussa N'Diaye: First of all, thank you for giving me the floor. Regarding my injuries, they are still alive to this day, especially in the liver and ribs. I recover slowly. It's not easy mentally but I'm hanging on thanks to the support of those around me.
Are you still traumatized by the shock or are your morale still good?
The shock and the minutes that followed were traumatic, it's true. The following days were also emotionally trying. It was an important game and season in my career, with high stakes. I know that several professional clubs follow me and this injury could be a brake on my ambitions. This match was the perfect opportunity to show my qualities and this injury very early in the match prevented me from doing so.
It's the hardest part for me: being away from the field. I miss football.
Do you know how long you risk being deprived of football?
No, it's still too early to tell. I had 30 days of ITT (temporary incapacity for work) following my liver, kidney and rib injuries. So far, I have not resumed any physical activity. The doctors recommend a recovery not before two to three months, but it will depend on the evolution of my state of health. It's the hardest part for me: being away from the field without knowing when I can resume. I hope to come back soon because I miss football.
What memories do you have of the shock with Éric Bailly and the moments that followed?
I remember that Eric Bailly hesitated to attack the ball. So I take this opportunity to speed up and I think that surprised him. He therefore found himself late and committed this fault. I then feel a huge pain in my chest. I directly vomited on the ground. I understood instantly that I could not continue the match. Then, I was evacuated on a stretcher, while waiting for the firefighters who made the decision to transport me to the hospital in Martigues. It was during this transfer to the hospital that I realized the seriousness of the injuries and the consequences for my season. A great feeling of sadness and uncertainty came over me. To ease the pain, the doctors gave me morphine. Then, after first aid at the Martigues hospital, it was decided to transfer me to the intensive care unit of the Nord hospital in Marseille for more in-depth monitoring and checks.
I absolutely do not blame Éric Bailly, because I am convinced that he had no intention of hurting me.
Éric Bailly came to see you and he calls you regularly: what are your relations and do you hold it against him?
Indeed, Éric Bailly came to visit me at the hospital. I felt him very touched and he greatly apologized for his gesture. This allowed us to discuss and since then he also regularly hears from me. Admittedly, the shock was brutal and the injuries are heavy, but I don't blame him at all, because I am convinced that he had no intention of hurting me. Injuries are part of the job and every footballer must accept them.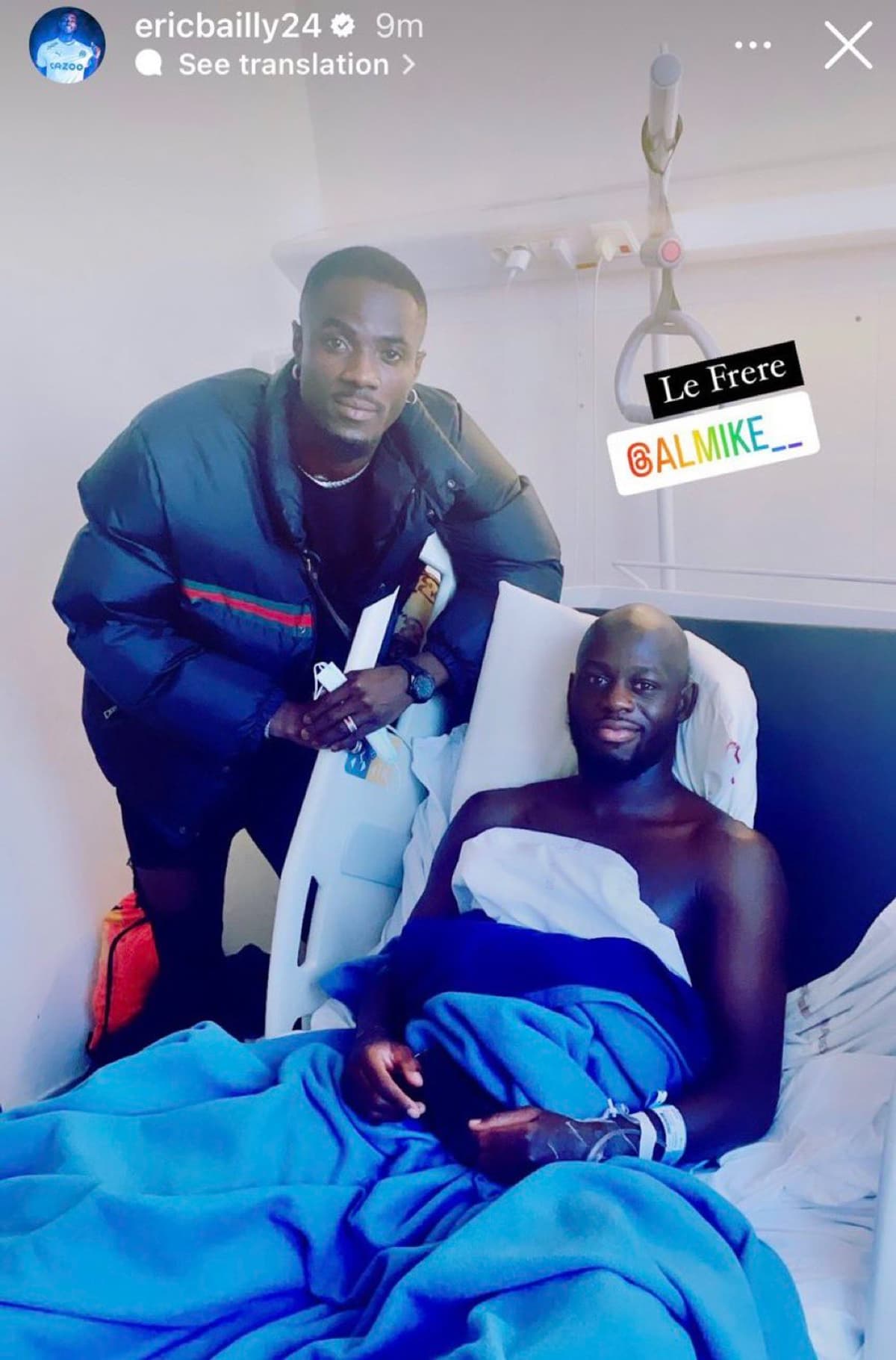 What is your opinion on the sanction of seven games of suspension that he received?
I can not give my opinion on the sanction taken, because it is not my responsibility to judge. This was surely decided on the basis of my injuries.
Above all, we wish you a good recovery. Are you well surrounded?
I received a lot of support and I take this opportunity to thank everyone. First of all my family and more particularly my little brother Fodé, who traveled daily between Hyères and Marseille to help and support me. I also thank my Hyères FC club, my president, my coach, the staff and all my teammates for their visits and their presence in this difficult period. I was also pleasantly surprised by the very large number of messages of support from the people of Marseille and even from certain professional players, and I would like to greet them warmly.