Suzuki perfectly masters the manufacture of small off-road vehicles. At a time when we almost only talk about SUVs, the Japanese manufacturer offers an atypical 4X4: the Jimny. Offered from 1998 to 2014, the first Jimny was able to win over a receptive audience to its concept of a small all-purpose adventurer. The machine was then an alternative to the Fiat Panda 4X4.
Marketed in 2018, the new Suzuki Jimny had to leave the catalog in 2020 due to an ecological penalty that had become too penalizing. The brand was able to find an alternative by bringing this adventurer back, but this time in a non-convertible two-seater configuration. Classified as a utility vehicle, the Jimny thus escapes the ecological malus. A heresy of the bonus-malus system? Without a doubt. But this niche thus allows all those who need a real small 4X4 at a low price to find what they are looking for. So here it is on trial, in its only version offered in the catalogue.
Design: no compromise for the Suzuki Jimny
The style of the Suzuki Jimny is unequivocal: it is a real 4X4 in the tradition of models from the 80s and 90s. It stands out from current production with a square design, which gives pride of place at right angles. With a length of only 3.50 m, the little Suzuki Jimny is particularly atypical. Very short, it is also high perched. By passing under a gantry for the limits of vehicles of less than 1.90 m, you will thus be able to hear the antenna. But fortunately the template still allows it to go everywhere. Its width is also very small.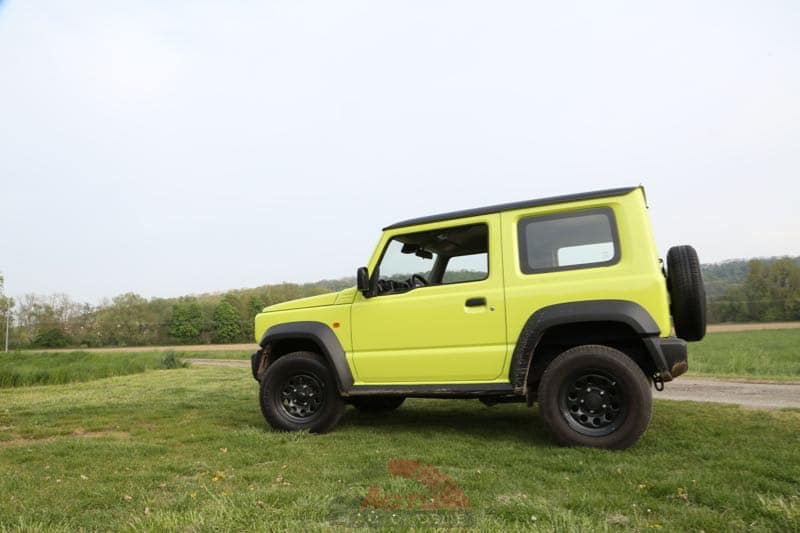 With its round headlights, separate amber indicators, vertical grille and right angles, the Jimny completely breaks with current models. Its spare wheel placed on the rear door is a real classic in the off-road world! Enough to have an accessible wheel, without encroaching on the trunk.
Such a design does not necessarily please everyone: either we love it or we hate it.
Four body colors are offered as an option, customers can also choose one of the 5 optional colors. Our test car sports the So'Color option with the Bluish Black Pearl metallic roof and the body in Kinetic Yellow. The black rims completely perfectly this exterior outfit.
Something to attract attention… It's quite an amazing thing for a vehicle like this: it surprises and turns heads. With a little snub for the electric cars that cross his path!
Its design was even rewarded in 2018 by the Good Design Gold Award in Japan.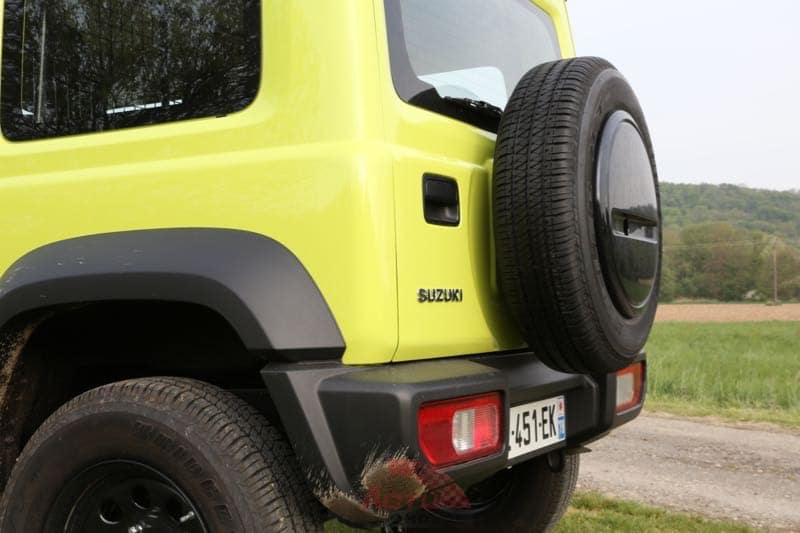 To live: return to simplicity
The interior of the Jimny is radically different from that of the other models in the Suzuki range. The driving position is high, the cabin is quite narrow, and the windshield is particularly vertical. For the dashboard, the designers have chosen black rigid plastics, with visible screws: we are in the rustic and rudimentary, but also in the solid. Despite all the essential equipment is present: air conditioning, car radio with Bluetooth telephony, electric windows, central locking… On the other hand, you will not have to wait for a leather steering wheel, touch screen or even a stereo system. This limit does not only concern standard equipment: there is no question of checking the option to go upmarket.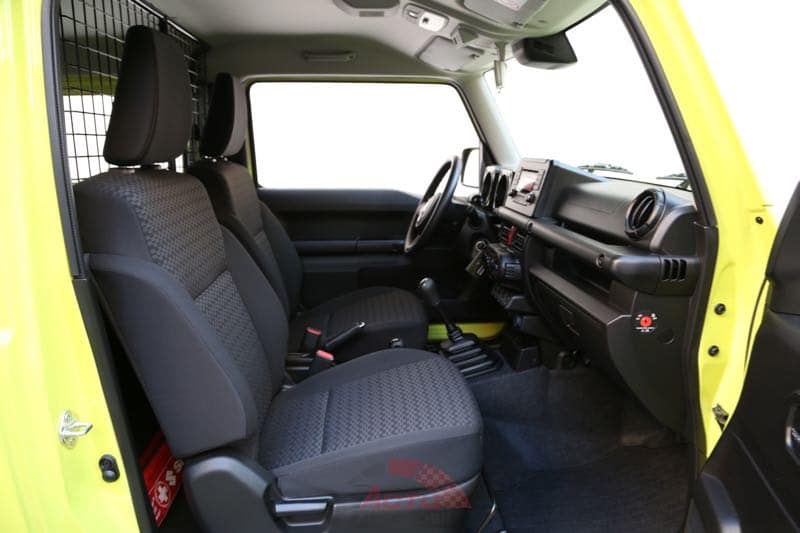 To convert to a non-convertible 2-seater SUV, Suzuki installed a grille behind the front seats. This is fixed and may interfere with tall drivers who will not be able to move the driver's seat back as far as necessary. It will have to be dismantled, or possibly adapted according to your needs.
Comfort is anyway not designed for riding for long hours. Whether it's soundproofing or the softness and support of the seats, the Jimny is nothing like a road SUV.
By removing the bench seat, the rear volume is entirely given over to the boot. This space is easily accessible with a hinged door that opens from left to right. It will therefore be necessary to avoid parking too close to an obstacle to have access to the trunk.
The volume is announced at 863 liters, and benefits from a flat floor and a cubic shape. The payload is however limited to 270 kg.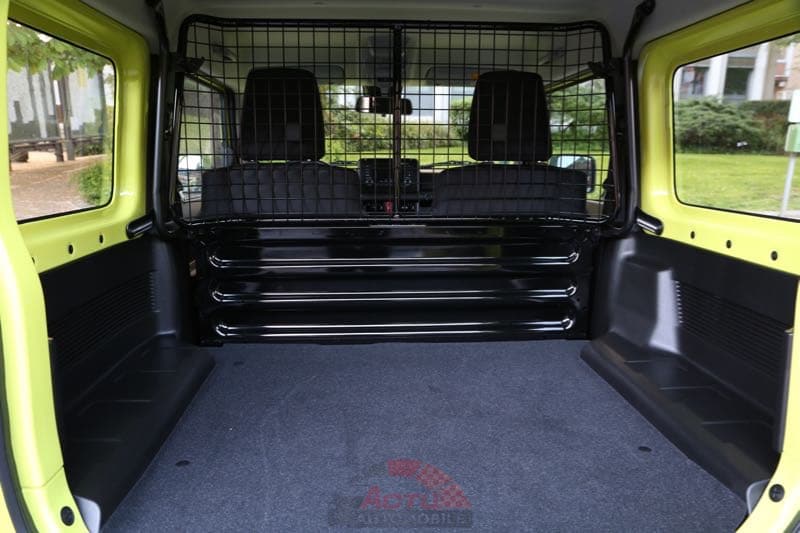 To drive: a real adventurer with a small size
Traveling in the Jimny immediately makes you think that you are not in the same car as your neighbors. And this is also the case for driving, which stands out on several levels. The elevated driving position gives you more height than in many SUVs. In front of your field of vision, the perfectly horizontal hood also puts you in the mood. It does not house a hybrid or turbo-petrol engine: this all-terrain relies on a four-cylinder petrol 1.5 VVT atmospheric. This type of atmospheric gasoline engine without any hybridization is no longer found under the hood of current models.
On a daily basis, however, this 1.5 L engine is far from unpleasant. The power of 102 hp is limited, but so is the weight. This makes it possible to have daily driving pleasure, without suffering from a lack of power. The gearbox is handled with a long lever, and has only 5 gears. Behind it, we find the small lever that allows you to switch from two-wheel drive to four-wheel drive. In two-wheel drive, you can thus favor consumption, which varies between 7 and 8 L depending on the conditions of use.
On the road, the approval is penalized by the control of box a little fuzzy and the limited power. However, the Jimny knows how to be civilized and is very easy to handle. In town, it takes advantage of its size to park very easily, and its high-pitched driving provides very good visibility. He is therefore very comfortable there, and allows himself to be admired by dazed passers-by.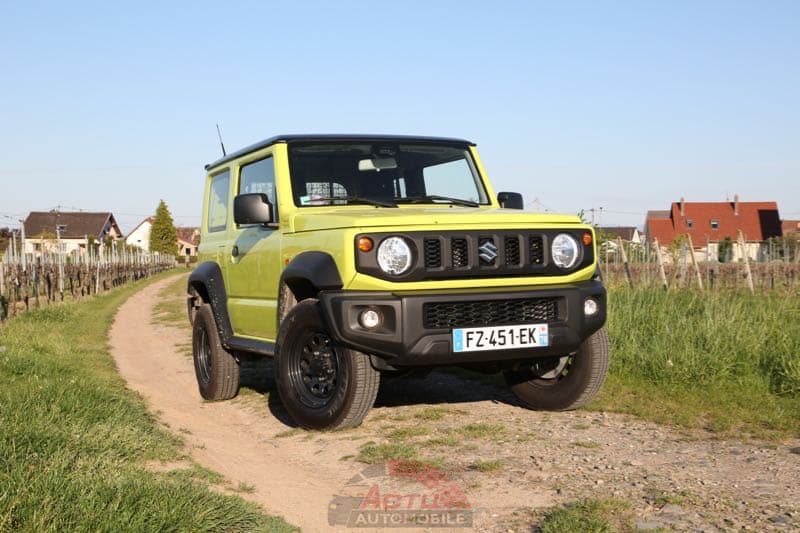 In 4X4 mode, we leave the paved roads to happily take the first dirt road that comes along. In real life, most are forbidden to anyone who is not a local resident, owner or other… If all roads were 100% accessible, then owning a Jimny would become a real imperative. What a pleasure to be able to travel far from everything, in the middle of nature…
With its high ground clearance, its specific tires, and its all-wheel drive, the Jimny is particularly comfortable off the tarmac. It also benefits from a small size and very short overhangs: connoisseurs will appreciate. Its chassis is traditional for an off-roader, with a ladder frame. A real adventurer, designed in the old way to climb everywhere!
Its crossing capabilities allow it to take advantage of many much more expensive competitors.
In the end, its off-road performance earned it recognition as an authentic 4×4.
Budget: unique and attractive price
Only one version is offered for this Jimny, the Privilege finish. The price is set at 21,490 euros: a price that remains attractive in 2022 for an all-terrain vehicle. In this price range, competition is limited. Dacia offers its Duster blue dCi 115 4X4 at 23,150 euros (Expression finish). The price is also cheap when you look at second-hand prices: some owners of 4-seater Jimnys resell them for close to 30,000 euros! A rare and requested product, the Jimny therefore maintains its value very well on occasion.
Budgetarily, its purchase is therefore rather a very good deal.
Suzuki always offers a warranty of 3 years or 100,000 km, a significant period.