Olympique de Marseille formalized Thursday the arrival of Isaak Touré (19), one of the most promising players of his generation. According to François Rodrigues, director of the training center in Le Havre, where the new Marseillais hatched, the latter is much more than a physical phenomenon of 2.05m. Quality of recovery, adaptability, charisma, foolproof mental… For his former trainer, he has everything to impose himself on OM over time.
François Rodrigues, how is Isaak Touré a very promising defender? What are its strengths?
We often talk about his physique and his 2.05m, but we forget that he is a very good footballer above all. He is a good defender on the man, able to be impactful in the duel. He is someone who likes the physical challenge and the contact with the adversary. But it is also an excellent raiser. Despite his size, he has a very good technique and is able to come and create numerical superiorities. He likes incursions into midfield. It's very rare to see rushes from a defender, but he loves it. Launched, it is extremely powerful and fast. Above all, he has a good foot quality. His passing game, long or short, is well above average. He is very complete for his position and, in my opinion, his potential is still far from being fully exploited.
>> All information on the OM transfer window
In what area does he still have room for improvement?
Especially on alertness and coordination. He also needs to improve on heading, especially given his size. At the moment, he is touching a lot of balls from attacking corners and he must be more impactful. Defensively, he must be a real control tower and master of the air.
What is your assessment of the past year in Ligue 2, his first real season after being operated on for a serious ankle injury in 2020-2021?
He had a good season, although he was not always used in his position. He was even left side! He has a strong ability to adapt. Paul Le Guen used him in the center in a four-man defense, as a left center in a three-man defense and therefore sometimes on the left side. In Ligue 2, he made matches with a lot of presence, a lot of mentality. He is a boy who is not afraid of pressure, he fully assumes his role and is already completely mature.
It must have been rather intriguing to see a boy of this size overflow from the top of his 2.05m in the corridor when he was on the left side…
Exactly. It's paradoxical… When I spoke with Landry Chauvin, the coach of the France U19 team, he confided to me that the first time he saw this fellow arrive he said to himself: "This n It's not possible, he's not a football player!" Behind, he was impressed with his ability to pass vertically to break lines and his ability to adapt. He's still not very pretty to see playing with this big body that he has to drag around… He's more the size of a basketball player, you have to admit! But above all he is a very good footballer.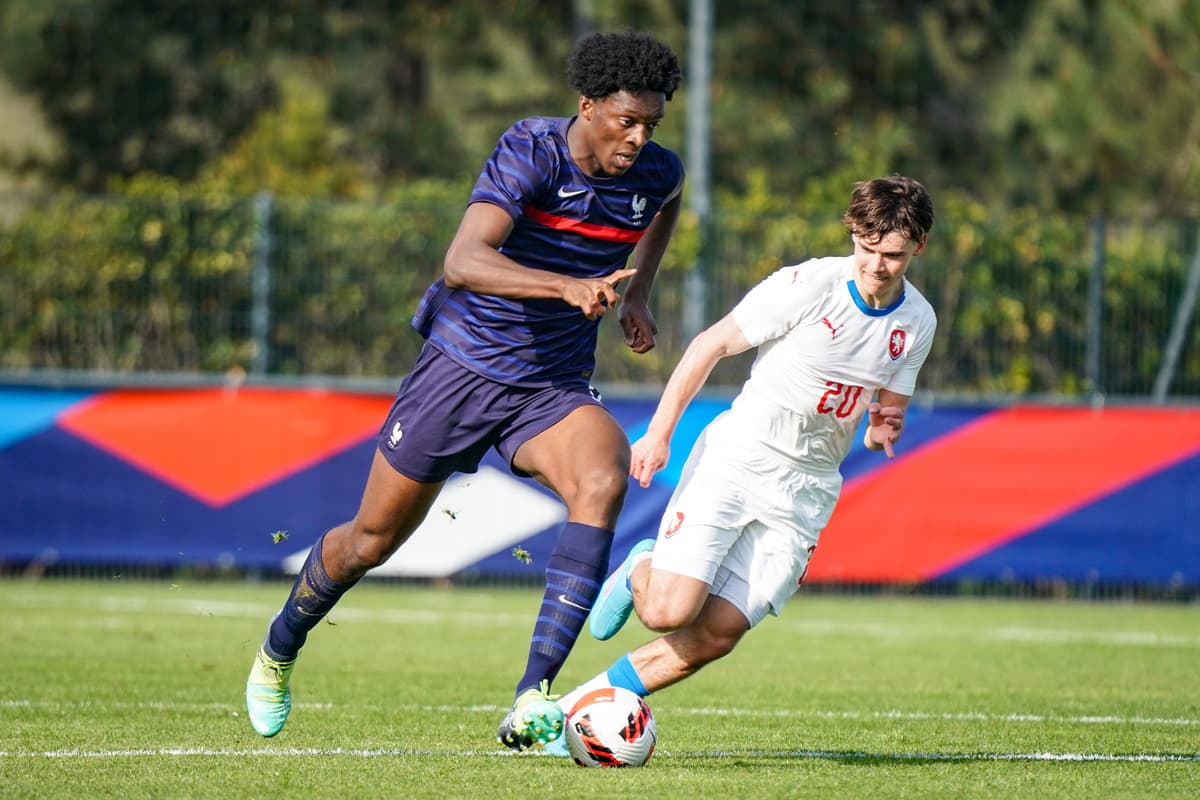 How do you imagine its adaptation to Marseille? Is he ready to play a lot of games or do we have to be patient with him?
I predict the same evolution as Pape Gueye. He is someone who has a lot of self-confidence. He will arrive with great respect and blend in with the crowd. You will see that he will then have more and more playing time and that he will reach a certain fullness during the second part of the championship, in January or February. It will go into a rotation, that's for sure. Pape Gueye, when he arrived, he started slowly, he had bits of matches. If Marseille has profiled this player, it is because they feel that he is capable of crossing this level. And I'm sure of it too.
"When he tackles an attacker, I can tell you he's scary…"
Does he have the ability to withstand the pressure and high expectations that come with Olympique de Marseille?
Yes, he is armed. He is someone who is not afraid of pressure. On the contrary, it feeds on it. He has a lot of charisma and character. He can handle the pressure really well. I am quite calm. Look at all the clubs around… When Manchester City sets its sights on a player, it's not just for his performance on the pitch. Personally, the only concern I have is in invisible training. This impressive size must be relieved. Isaak, even more than the others, will have to pay attention to his diet, sleep, joints… There is a lot of preventive work to do, before and after the sessions.
Its size is therefore its strength, but could also be its weakness in the longer term…
Beyond its size, you should also know that it weighs more than 100 kg! When he tackles an attacker, I can tell you he's scary… He's an atypical, rare player. Modern football, especially in his position, requires athletic predispositions and he has them. Now, how is he going to be able to deal with extremely swift and clever attackers? We will have to improve on liveliness and coordination. For the rest, I am very confident.
Felix Gabory RMC Sport journalist