Tesla CEO and world's richest man, Elon Musk, said Friday morning, May 13, " to suspend " the process of taking over the social network Twitter. The reason given for this new surprise announcement? The investor says he is waiting for more details on the proportion of fake accounts on the social network. The action of the group, listed on the New York Stock Exchange, immediately plunged by around 11% at the opening of Wall Street, a sign that investors are wondering and even doubt now that the takeover project will come to an end.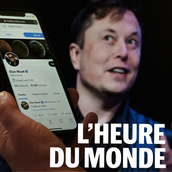 Also listen What future for Twitter, bought by Elon Musk?
What is this story of fake accounts? In his message, Mr. Musk says he wants to make sure "that spam and fake accounts represent well under 5% of the number of users"of the 229 million active users claimed by Twitter. This figure was made public in early May by Twitter in documents filed with the US stock market watchdog, the Securities and Exchange Commission. Automated accounts have historically been an endemic problem on the platform, where political actors, scam artists and even state propaganda departments have resorted to bot accounts to spread and amplify their messages. Mr. Musk is not unaware of this problem: in his takeover project, he claimed to want to put an end to spam – these polluting messages often sent by fake automated accounts.
The 5% rate quoted by Twitter is relatively low. In the past, multiple independent studies suggested a much higher level; the company has invested more in combating these accounts in the past two years.
Read also
Facebook says it has deleted 5.4 billion fake accounts since the start of the year
"When determining whether an account is fake or genuine, our judgment plays a significant role, and our estimates may therefore not represent the true number of such accounts.", Twitter wrote in the stock docs. In addition, the company has several times had to slightly lower its monthly active user figures, a key statistic, due to miscalculations.
These elements can of course have an influence on the activity of Twitter, which depends mainly on advertising, and therefore on its valuation, but the question of fake accounts has been known for a long time and exists on all social networks. The surprise suspension of the takeover may therefore appear disproportionate, or as a pretext.
Financing problems linked to Tesla
Elon Musk's announcement raises questions related to the financing of the takeover of Twitter and, more broadly, to Tesla. Tesla's share price has lost 29% of its value for a month, which has consequences for the approximately 250 billion dollars (239.5 million euros) of personal fortune of the richest man in the world, and therefore, indirectly, on the financial package developed to acquire the social network.
By announcing on April 25 a repurchase of Twitter shares at 54.20 dollars (about 52 euros) – i.e. a 54% bonus compared to the price at the end of January –, the buyer valued the company at 43 billion dollars (42. 1 billion euros). But Mr. Musk's fortune is not made of cash, but of stocks. The entrepreneur initially intended to provide financing from several sources: 13 billion in loans from banks, up to 21 billion from the sale of Tesla shares and 12.5 billion "of a margin loan"pledged on Tesla shares, which the lenders would recover if he did not repay.
However, explains the Bloomberg agency, Mr. Musk has, for previous loans, already pledged more than half of his Tesla shares… His new loan on margin of 12.5 billion would have been called into question if the course of the the car manufacturer's share fell below 837 dollars – it reached Friday up to 762.18 dollars (730.2 euros). Elon Musk has just announced on Thursday that he wants to reduce the amount of this loan, thanks to around 7 billion in financing from investors: the co-founder of Oracle, Larry Ellison, the Sequoia Capital fund, the Qatar Holding fund and the Saudi prince. Al-Walid Ben Talal, who would contribute his share already held in Twitter. According to the financial agency Bloomberg, Elon Musk would even seek to eliminate the pawnbroking by selling more Tesla shares, for more than 27 billion dollars in total.
Beyond these stock market and financial games, the fall in Tesla's share price reveals a fundamental tension around the takeover of Twitter, as if Elon Musk's wishes to lead the two companies were contradictory. "As the CEO of a $1 trillion company, Elon Musk should not scatter and focus on Tesla and not waste time buying and running a $43 billion company", estimated, in mid-April, David Trainer, CEO of the investment company New Constructs. However, Mr. Musk is already busy with his role in space builder SpaceX, the stock markets are down, the world is experiencing unprecedented crises, the electric car is booming and Tesla is facing challenges, such as the recent recall 130,000 cars due to an overheating problem… Tesla's share price jumped 7% on Friday when the Twitter takeover was announced to be paused.
Read also:
Article reserved for our subscribers

"For Elon Musk, radically changing Twitter will be difficult"
" Horror movie "
What are the real intentions of the unpredictable Elon Musk? "Wall Street will now believe that the deal is about to fall through, or that Mr. Musk is trying to negotiate a lower purchase price, or that he just wants to get out of the deal by paying $1 billion severance pay"summarizes Dan Ives, analyst of the investment company Wedbush Securities, which estimates the chances of the takeover at "less than 50%". For Mr. Ives, the "Twitter takeover circus will turn into a horror movie worthy of Friday 13 ».
"We will inevitably wonder if the fake accounts are the real reason for this delaying tacticabounds Susannah Streeter, analyst of the investment company Hargreaves Lansdown, quoted by Bloomberg. Forty-three billion seems a gigantic price. His announcement may be a strategy to lower this amount. »
An hour after his shattering tweet, Mr. Musk claimed to be "always invested" in the redemption. These two messages will certainly be closely analyzed by the Securities and Exchange Commission, which has already opened, according to US press reports, an investigation into the way in which Mr. Musk discreetly acquired a vast amount of Twitter shares in late January. , without having declared them, as required by US law. The stock market policeman had already sanctioned Mr. Musk for having published, still on Twitter, information about Tesla outside the framework required of a listed company.
Still committed to acquisition