Game News Attack on Titan: the manga phenomenon begins an unprecedented collaboration with a survival game
Embody Eren, Mikasa and the other protagonists of the Attack on Titans in the survival Dead by Daylight, it is now possible or almost! Behavior Interactive announces the very first collaboration between the manga star and its survival game.
Dead by Daylight X Attack on Titan
As indicated by his name, the "Dead by Daylight X Attack on Titan Collection" is the unexpected encounter between two universes : that of the game Dead by Daylight and the equally tortured universe of Hajime Hisayama's manga. Because the Dead by Daylight team is itself among the fans of the anime, a collaboration between the two licenses had to see the light of day. It is now done with the deployment in Dead by Daylight of a pack of 10 exclusive outfits featuring the uniforms of the main heroes of Attack on Titan.
The visuals and story of this legendary anime have had a significant effect on many of us and we are thrilled to introduce cosmetic items from this critically acclaimed universe. This is one of the most extensive Collections with 10 Outfits designed for Killers and Survivors. Our approach to bringing the iconic 2-D design from the anime into our 3-D universe was challenging as we wanted to honor the original art direction while staying true to the essence of Dead by Daylight. We are extremely proud of this Collection and hope that fans will enjoy it to the fullest. – Dave Richard (Creative Director of Dead by Daylight)
Dead by Daylight X Attack on Titan Collection
Eren's uniform for Dwight Fairfield
Mikasa uniform for Yui Kimura
Armin's uniform for Felix Richter
Annie's uniform for Meg Thomas
Hange Uniform for Zarina Kassir
Levi's uniform for Jake Park
Historia uniform for Kate Denson
Kenny's uniform for Ace Visconti
Armored Titan skin for the Oni
Spirit Battlehammer Titan Skin
The pack thus includes 8 "very rare" outfits for Survivors and 2 "ultra rare" outfits for Dead by Daylight Slayers. They also have access to Battleship Titan skins for Oni and Warhammer Titan skins for Spirit.
---
A reinvented design to match both worlds
According to Xavier Etchepare, art director of Dead by Daylight, all the cosmetic elements designed for the game are considered as a new opportunity to tell a story. These outfits are therefore above all visual representations of the experience of each character.. The team wondered how the characters of Dead by Daylight would react on Paradise Island and which Attack on Titan heroes they would most resemble.
An Outfit is like a polaroid – an immortalized moment in the life of a character. We dug deep into each character's past to ensure the Outfit best reflects their values ​​and emotions. For example, Historia's jacket, as worn by Kate, was chosen to reflect her kindness, as she is worn in the anime to go visit an orphanage. We had lots of other outfit options for Kate but wanted to reflect that intrinsic value she shares with Historia Reiss. The Collection is full of similar details. – Rose Li, project manager responsible for the in-game store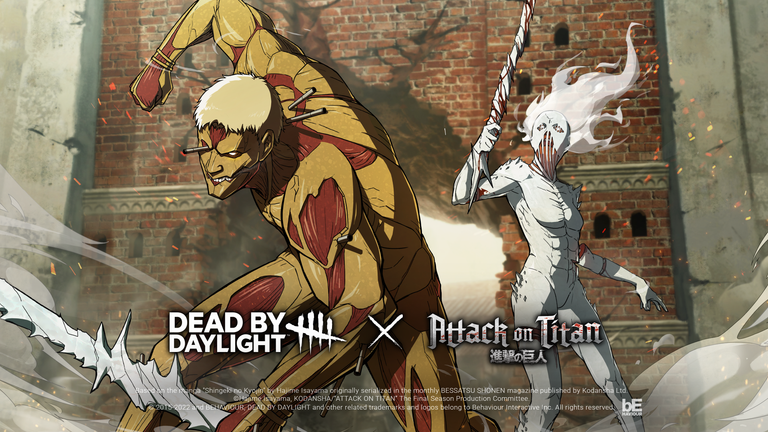 To mark the event, a special promotion is in place until July 26, 2022 on certain outfits and players will also be able to benefit from daily rewards in-game Dead by Daylight, including exclusive charms related to the new outfits: Survey Corps Crest, Special Brigades Crest, Garrison Crest, and Titan Wall Charm. Up to you !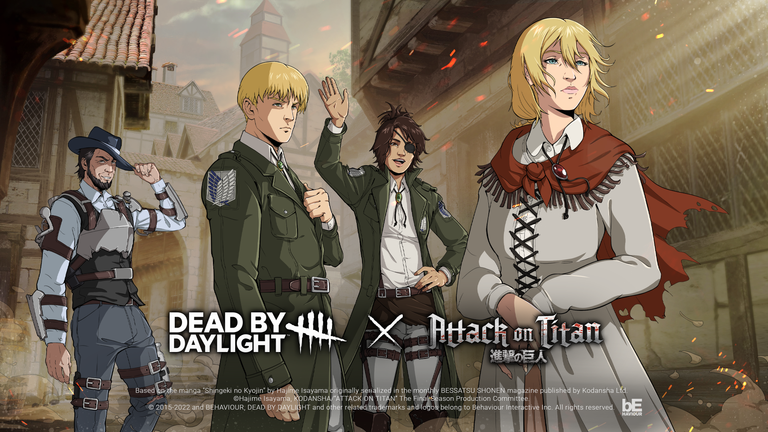 ---